Advanced Cloud DLP Solution for Better Cloud Security
Ensure your business data is leak proof with firm data governance and security offered by our advance cloud Data Loss Prevention (DLP) solution.
CloudCodes DLP i.e., Data Loss Prevention in cloud computing helps the organization in monitoring, tracking, and preventing business data on the cloud, while in use, in motion or at rest. To avoid data breach or data loss from cloud apps like G Suite, Office 365, Google Drive, Dropbox, One Drive, etc., Data Loss Prevention enables the IT admin of the organization to set up policies through the CloudCodes CASB dashboard. With these policies, businesses can keep a check on the way their data is being used and can track or restrict several functions like sharing, downloading, copying, printing, etc. for a single user, particular OUs, or the entire organization. Data loss prevention in cloud computing also helps businesses adhere to compliances like PII, PHI, PCI, HIPAA, etc.
While cloud adoption is increasing due to its ability to offer increased productivity, better team collaboration, and more work flexibility, let us not forget it also results in an increase in the number of channels through which users/employees can leak, breach or even steal business data.
CloudCodes DLP in the cloud is one of the highest demanded solutions by CloudCodes customers. CloudCodes Data Loss Prevention in cloud computing gives complete visibility and control to you to secure any information that may be leaked by any user - intentionally or unintentionally.
What If -
Your sales guy transferred customer data to his personal drive?
What if one of your tech team members copied your company's proprietary code – could he sell it to your competitor?
One of your users clicked on a phishing email link – your entire system could be compromised!
These and many other factors make it vital for any organization to deploy a DLP in a cloud solution in place – just a firewall may not be enough!
Security Features Offered by CloudCodes DLP Solution
Track / Block User Activities
While cloud apps enable users to store, use, and transfer data from any part of the world, anywhere, it can also pave the way for data loss/breach, and that too quite simply. With Cloud DLP by CloudCodes, a business can impose strict governance on their data.
Track / Block users from –
Downloading documents or other files from the drive
Downloading email attachments from their business emails
Sharing files or any other data from the Google drive
Accessing their personal Gmail in the business network
Using Clipboard functions (Copy / Paste) data from Google drive
Printing corporate files, documents, etc. from Google Drive
Taking screenshots or Print screen of the business data stored on the drive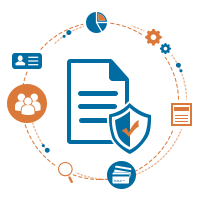 Drive Security
Take granular control and better vigilance on the data movement to and from Google Drive. Ensure no data is being used for unauthorized purposes.
Containerize Drive
Track / Block document sharing across OUs and individuals
Track / Block downloading files from Google Drive
Track / Block printing and screenshots of Google Drive data
Restrict / Track Copy / Paste of Google drive data, i.e. Clipboard functions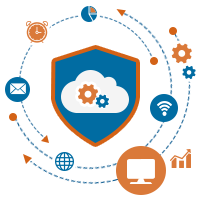 Block Personal Gmail
Restrict users from accessing their personal Gmail accounts while in the corporate network. This ensures that no data sharing occurs between a user's personal and business Gmail accounts; also, ensure no business activity is undertaken from a personal Gmail account, which may lead to data tampering, data loss or theft.
Read More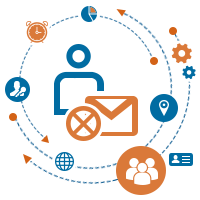 Containerization
Where do the files get saved once they are downloaded from an email or from the drive? Usually, on the user's PC / laptop – but what they do with these files next, you may not have any control over it! Our DLP in cloud solution helps you ensure the downloaded files are secured and do not lead to a data breach or leakage with robust Data Encryption tools.
Containerize Drive
Encrypt data from Google Drive when downloaded. Users will be able to view these files or other data only through CloudCodes Viewer App only. In case the data is transferred elsewhere, it will be nonreadable, hence safe
Containerize Email Attachments
Data encryption for email attachments on download, helps businesses control and safeguard data access. Users can view these apps on the CloudCodes Viewer app only, which further restricts them to copy or share this data anywhere off their corporate G Suite / Gmail. Attachment containerization is the best way to ensure corporate documents are secure and are non-accessible if and when shared outside the corporate Gmail
Containerize Outlook Attachments
Restrict the transfer of corporate data to unauthorized/personal places using our Outlook plug-in, which can be deployed on all users' Outlook. Containerization by Cloud DLP ensures encryption of the attachment content so that only the authorized/intended user can read or access it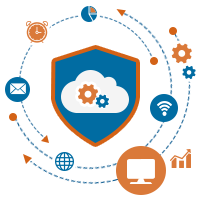 Compliance Setup & Check
Setup compliance policies and keep a check on its adherence. Design compliance policies with our pre-designed templates to best suit your needs for PCI, PHI, PII, HIPAA, and others.
Downloading of Documents: DLP in the cloud solution allows to set policy on downloading of the document. It means whenever someone tries to download a document stored on Google Drive, and it can easily be tracked or controlled.
Deletion of Document: If someone deletes any document stored on Google Drive, then this policy keeps a complete record of it. For example, who has deleted the document and which document is deleted.
Sharing Outside the Organization: Sharing of any document outside the organization can easily be handled by setting such policies. Moreover, the DLP solution by CloudCodes is capable of revoking the external access also.
Taking Screenshots: An organization can set a policy also to restrict users from taking screenshots. No one is allowed to take a screenshot of the work going on in a particular system.
It also permits the organization to define actions, which is to be taken when such type of violations are detected. For e.g., if it is found that a document is shared outside the organization, the IT can define policies to revoke the external access.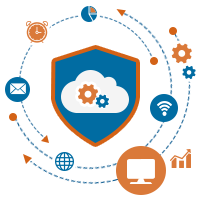 Block USB Access
Restrict users to access external USB devices to ensure no business data is being transferred for unauthorized use.