Identity Management in Cloud Security
Allowing control over access to data and formulate efficient governance policies for the user. Access Control can regulate and monitor permissions to business data by formulating policies.
A Modern Cloud Identity Management Security Solution
Most of the organizations are accelerating towards the cloud-based environment. They are transferring their work either on the private or public cloud platform. But, sometimes, it is a challenging task for all companies to keep data safe and secure in the cloud. Vision and proper strategy these two things are most important for cloud management security. In the current scenario, customer needs to tackle each program anywhere either on-premises or in the cloud. Therefore, identity management provided by CloudCodes solution can be used in an enterprise or cross-network. In this blog, we are going to discuss some advanced features of Identity Management in detail. Before that, let us explore what is identity management in Cloud Computing.
Role of Identity Management in Cloud Security
Identity management (IM) is a term that refers to the information system being used within the enterprise. This represents the systematic management of any single identity and provides authentication, privileges, authorization, and roles of the enterprise boundaries. The primary purpose is to upgrade security and productivity by decreasing the total cost, repetitive tasks, and system downtime. Identity management in cloud computing covers all types of users who can work with defined devices under different circumstances. Various identity management (IM) services imply that wired and wireless user can support the directory integration. The availability of BYOD makes it a time-saving service for the individual user. Further, there are some additional security services, which are mentioned below:
Password Manager
Digital Identity Management
Few Benefits of Identity Management in Cloud Security
Cloud services offer several advantages over all other traditional products. Go through the following actions to understand the few benefits of identity management in cloud computing:
Enhanced Network Abilities: Identity management (IM) makes it simple in sharing the network capabilities with a complete grid of users who were connected with it.
Provides a secure collaboration: SaaS protocol is designed and utilized as a hub for connecting with all virtual networks of suppliers, distributors, and trading partners.
Support On-demand improvement: The problem that affects from churn protects organizations with a cloud-based solution. All experts can be able to provide 24*7 hours support and monitoring, whenever needed.
Increase Overall Productivity: It is completely known that cloud-based services are configured and hosted by service providers. This may also get a little or zero hassle either for users or any other clients. As a result, many organizations can improve their overall productivity.
Centralized Management System: Business users can be able to manage all services and programs at one place with the cloud-based services. Identity management can be done with one click on a single dashboard.
Points to Remember
With the help of CloudCodes Identity Management (IAM) solution, the following points are to be remembered to protect against data leakage:
Provision or de-provision user accounts through the single console
Implementing active password policy to set password complexity
With the existing Active Directory (AD) as Identity Provider (IdP) to a system for Active Directory (AD) integration
Allow Multi-factor authentication service using secret questions, the OTP (One Time Password) is an end to the users via SMS or email
To implement Biometric authentication factors in mobile devices. Example: Using fingerprint as a factor
Supports the Windows login process for end-users
Identity Management in Cloud security solution controls the access to resources within that enterprise system by incorporating user policies and restrictions with the verified identity. This is indeed a great way of controlling information about users on the network. It is possible to identify, manage, and control user identities across the entire system by setting up policies. This is undoubtedly a highly intelligent way of handling the security of the uniqueness of an enterprise.
Key Features of Identity Management
Password Policy
The enterprise password policy of an organization that includes:
Several combinations of complexity or length
Setup the password expiry & restriction
Specify different policies for multiple OUs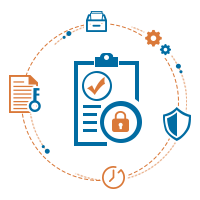 Two-Factor Authentication
Enforce specific security measures using two-factor authentications, which include:
Authentication with the help of Biometric Authenticator on smart devices and SMS for G-Suite
Biometric identification for any other SAML cloud-based cloud applications
Policy-driven enforcement by OU
Self-service for all end users to roll out easily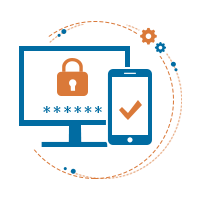 Forget Password
Reset the password by promoting the self-service reset functionality:
Automatic password reset request from the user
Challenging task for all users to reset password
Provide self-service module
The easy enrollment process for end-users or admins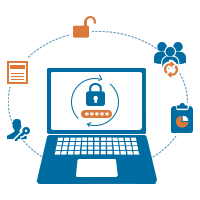 Microsoft AD Integration
Microsoft AD integration permits to maintain only a single source of identity to simplify the Identity management of an organization. Some of them are mentioned below:
Full AD integration with cloud-based application that supports SSO and SAML
Real single Sign-On experience for end-users
AD becomes an Identity provider for Cloud Application